All-in-One Report
Need to research a single part?

Run your NSN or Part Number search against the entire PartsLogistics database. The in-depth results will provide you with access to the information you need in one quick and simple search.
Features
Parts Availability Supplier
OEM Available Excess Report
OH CAP Report
Master Cross Reference Database
FAA PMA
Procurement History
Technical Characteristics
Management Data
Interchange and Substitution
AvRef
DRMS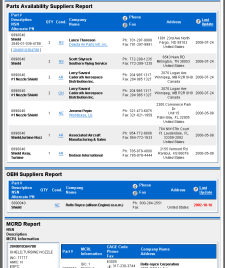 View a Sample of the All-in-One Report
Start your Research today!